---
PAGE 5
---
Saturday, February 19, 2000
I met Cynthia, Jessica and Bonita at the Prince Hussein Suite at the Forum where we had breakfast. Cynthia and Jessica getting kicked out of the Presidential Suite at the Mövenpick and moving into the Prince Hussein Suite at the Forum is what I call landing on your feet. We met the bus just after noon, bid farewell to Petra and headed home via Mazra'a, with a stop at Shawback Castle on the way, which we had visited with the previous group of students on Christmas Eve. We were back at Deir Alla by 6:00 PM, and Umm Sahla and Fatma had a great dinner for us.
Sunday, February 20, 2000
The guys in Bonita's unit are amazed by zip lock bags. Big Omar kept opening and closing one, saying "America. What a country." Sounded just like Jakov Smirnov. We're starting to push things on site to make our goal of 96.9 m elevation in all squares. Good progress today. Back at the dig house, the new water heater seems to have added plenty of capacity. I'm still getting up early to shower. Don't know when I'd make time for it otherwise.
Monday, February 21, 2000
Flu symptoms today: sore throat, achy, tired, mild headache. I slept for about 45 minutes between lunch and lab. It was a decent day on the site, both digging and map making. We built the new hammam [latrine]. This time we replaced the wire ties, which was tearing the plastic tarp walls, with duct tape. Good thing we brought a ton of it.
Tuesday, February 22, 2000
It was very windy on the site today. In spite of the duct tape, the plastic on the hammam was damaged. It's just too thin for the job. Oh well, it's still usable. Since we don't use the local post office, it was a big deal when Steve went to Amman this afternoon and took outgoing mail. I had 25 letters in the bag. I'm feeling much better today. It's amazing what a difference a day can make around here.
Wednesday, February 23, 2000
Some brief rain on site. It never got too bad, but more is threatening.The units are getting deeper. Just getting in and out of them 30 times a day is a workout. We "repaired" the wind damage on the new hammam by simply covering the whole thing with a tent rain cover.
Someone found alot of sherds stashed in the lab, so it looks like the guy [Abdullah] hired to label them in ink by hand has been screwing us. [Greg Schackner gets the credit for discovering the problem.] Sherds are missing. This could be a major setback.
Thursday, February 24, 2000
Good day on the site. Making progress and uncovering some interesting stuff. Unfortunately, the extent of Abdullah's damage back in the lab is just coming into focus. It seems as if all the sherds that we've collected and have been handled by him will have to be lumped into one big site locus and phased as Phases I-III, i.e., as broadly as possible due to total loss of provenience. We worked assessing the damage all afternoon. [From this day on, the verb to abdullah came to mean "to intentionally destroy data, or to have your data destroyed."]
It was a quiet evening. We played dominoes. I'm looking forward to a quiet day tomorrow while the group is touring Jerash.
Friday, February 25, 2000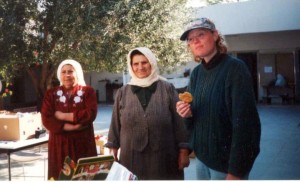 Had a very hot shower (a real treat) and a quiet breakfast of leftovers from last night's dinner. Saw the group of to Jerash, then may have gone 3 hours without seeing another soul, rare solitude in a dig house. I could hear our neighbors and their animals, especially their roosters, but they didn't really intrude on the quiet. Walked to the new ALO phone downtown and called home. While walking back, I ran into Fatma, our assistant cook, and she invited me in to her place for a cool drink, a very friendly hospitable act considering that we were unchaperoned and could lead to criticism of her. The bus arrived back at the dig house at 4 PM and the spell was broken. Don't get me wrong, they're a great bunch. We just live very close together in the dig house.
Saturday, February 26, 2000
It was a busy on the site. There was alot of action in all three of my squares. Bonita's team found a whole small pot. Emily found a stone bead. Ruth is cutting through wall fall. It was a cold morning leading to a pleasant afternoon, but once the sun goes down the long underwear goes back on. Help my crew process pottery after lunch from about 1500 hrs until sundown (1723 hrs) when it became too dark. We managed to get everything done before dinner. Just have to go over field notebooks before calling it a day. I'm developing a cough.
Monday, February 28, 2000
Sore throat and cough persist, and I think it's making me short-tempered. I'm just tired of being sick. At least we can finally get warm in these huge airy rooms. Chad is down with flu-like symptoms and didn't make it to the site today. Another busy, productive day on the site, on the roof processing artifacts we brought back, and in the dining room going over notebooks.
Wednesday, March 1, 2000
We were driven from the site by rain once again, this time before second breakfast. That puts us up to 4 days lost to rain. The weather cleared up long enough for us to sort pottery and lithics on the dig house roof, but the rain returned, along with thunder and lightning. It rained hard and long, so we had most of the afternoon free, and I did some reading. [I was taking a reading and conference class with Steve.] Greg brought a kerosene heater into the room, where he got it I don't know, and we're drying our shoes next to it now. Despite the abbreviated work day, it's 1930 hrs and I'm still waiting for Ruth's and Emily's notebooks. Also, Jenn and Yusha went to investigate other sites in the area when we left Abu en-Ni'aj this morning, they haven't returned yet, and we're starting to worry.
GO TO TOP OF PAGE
<- PREV |
NEXT ->