---
PAGE 4
---
Thursday, February 10, 2000
It was a less exciting day on site today. We wrapped up a very productive week, even with the dozer interruption yesterday. Things are getting more and more complicated in each unit. We found a spear-sized projectile point and a nice long Canaanean blade.

Cynthia, Michelle, Jenny, Oralia and I walked Alia home. It was about a 40 minute walk. Alia is a Jordanian archaeology student who has been working with us. Alia had us in for coffee at her home. On the way back to the dig house we could see steam rising from a hot spring-fed stream.
Friday, February 11, 2000
Road trip! We left around 0800 hrs and headed south to the ZAD site. Cynthia and I made the trip down into and up out of the wadi one more time and Greg joined us. Everyone else went with the bus up the road to the sea level marker overlooking the site. We also stopped at the Bab adh Dhra' site, and then drove out on the Lasan peninsula in the Dead Sea. We headed back north and stopped at the Dead Sea Spa Hotel, where we swam on New Year's Day.
We didn't swim this time though the weather was fine. We watched a candy commercial being filmed on the beach. Atis and I hit the dessert bar and got our money's worth. Even so, I was glad that we stopped at the Mövenpick Hotel for ice cream on the way back. We got back to the dig house too late for dinner.
Saturday, February 12, 2000
Today was the first day on the new schedule due to earlier daylight. I was up at 0400 hours for a hot shower. Bonita was out sick so I took her unit, Unit W, for her. It made for a busy day that went by quickly. It seems as though the confrontation with the construction company bulldozers has been settled in our favor. They haven't returned. Apparently the bankers behind the project backed off.
Sunday, February 13, 2000
We had another rain day following a spectacular thunder and lightning storm that had us up during the night. I was up at 0400 hrs, but Jenn called off the field day so I went back to bed until 0800. After a late breakfast we had a lab day. I measured the volume of Bonita's cookpot at 4.4 liters. A gallon is about 3.75 liters, not much different. The size range may be a good trade off between volume and ease of carrying.
I went to town for envelopes. It rained almost all day. We've now lost 2 ½ days, and tomorrow is in jeapordy.
Monday, February 14, 2000 – Saint Valentine's Day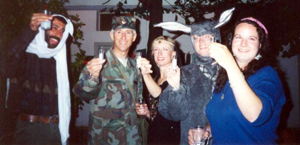 I was up at 0500 hrs for a shower and breakfast, but it was raining so I went back to sleep. Achmed drove me, Jenn, Greg and Bonnie to the site. We intended to bail out the units, but it wasn't bad. The rain did pick up again later, though. We've now lost 3 ½ days to rain. I went to downtown Mishara looking for envelopes again. We had a Saint Valentine's Day party during the evening. Ruth and Jessica had decorated the compound
Tuesday, February 15, 2000
After two rain days, it was a busy day on the site. We've all been told to pick up the pace. After lunch, I took Achmed to Kraymeh to buy shipping boxes for the artifacts. Jordan allows us to export some of what we recover, after the Department of Antiquities takes what it wants. Banana boxes seem to be the favorite again this dig season. They actually grow a small variety of bananas here in the Jordan River valley. Lunch and dinner were served outside. It was cool and dark at dinner. Spring is still a ways off.
Wednesday, February 16, 2000

We were rained on yet again. Thank goodness I picked up that rain outfit at the potlatch at the end of the ZAD dig before coming here to Deir Alla. Our work was interrupted during the heavier rain, and eventually we cut the day short by about 45 minutes. We analyzed artifacts under cover outdoors or in the lab. Tomorrow we depart for Petra. Second visit for me, but there's a new group of students to take that hasn't seen it yet.
Thursday, February 17, 2000
We left the site at noon, had lunch, packed our bags, and took a 5-hour bus ride to Wadi Musa and Petra. I was supposed to room with Greg and Chad at the Moon Valley hotel, but the room didn't meet the minimum requirements of heat and hot water, so we moved to the El Rasheed Hotel where I ended up in a nice single room for JD 10 ($15) per night. It's cold here. Again we saw snow on the roadside on the way here. Cynthia's reservation at the Forum was screwed up so she and Jessica were moved to the Presidential suite at the Mövenpick for the same price. The place is amazing. It has 3 balconies.

Friday, February 18, 2000
We had a great day at Petra. It was again a cold and clear day that warmed up nicely. We stayed in a loose group with me Cynthia, Bonita and Jessica at the core. Having been here before, the pressure to see as much as possible was off, and it was a relaxing though still tiring day. There are 751 steps to climb to make it to the Monastery. Cynthia and Jessica had to give up the royal suite and moved back to the Forum. We had the buffet at the Mövenpick. Then we went to an internet café. There was a lot to catch up on. Our hosts at the El Rasheed made tea for us.
GO TO TOP OF PAGE
<- PREV |
NEXT ->